Well, what would you like to know about me? It always seems hard to talk about myself. I like to talk about what I do, what I did, etc. but not really about who I am. Perhaps that is because I don't really know who I am, or if I did, you wouldn't understand if I told you. Here goes…..
As of today, I am 60 years old, in fairly good health considering everything and single. I have been married for most of my adult life, so I guess I prefer that status to my current one. I have six children, three step children and three "regulars" (what else can I call them, natural?). One girl and five boys, the youngest is 29 and the oldest is 41. Yes, it is hard to believe they are getting that old. Good thing I'm not!
I did most of the usual things, but not on the same timeline as most people. I got married at 18 and didn't start college until I was 27. Funny, back then I thought I was too old to start college, hilarious! After 5 years of full time school, full time work and full time Dad, I earned a Bachelor of Science in Business Administration, summa cum laude with a 3.94 GPA. Although I graduated at the top of my class, because I was a night student, I was not eligible to speak at the commencement. But I was happy to finally be done. My next step was to start my accounting career which began with a sour note at a local CPA firm which fired me after three months over a dispute about health care benefits. But soon thereafter I landed my dream job.
I started work for the U.S. General Accountability Office (GAO) and was thrilled to be part of the most prestigious federal government agency in my field. Since childhood, I had always been interested in what happens with money, where it comes form, where it went, what it was used for and why. I was also very interested in government and politics, probably because by the age of 15 I had been reading about the Vietnam War for three years, watching neighborhood kids go off to war and sometimes not come back. It is interesting how fixated you can be with government policy when it is your ass that is on the line. I hope no one is expecting me to follow chronological order here; I am jumping all over the place.
Since I brought it up, I may as well talk about my childhood. I grew up in an Irish Catholic family from Boston. My mom was second generation Irish and grew up in the Roslindale, Forest HIlls and Jamaica Plain sections of Boston. As a child of the Great Depression, she and her family saw some pretty hard times. Her father came over from Ireland in steerage in 1920, leaving two daughters and his wife behind. Somehow, he eked out a living in America working as a gardener and farm hand at some of the large estates that still existed at that time in Boston. After several years of working and saving his money, he finally brought the rest of his family to the U.S. There were rumors that he came to this country to escape persecution from the British because of his participation in the Black and Tan War of 1916, but no one ever provided any evidence of it.
My father's side of the family was English and Irish. Although my surname, Ballard, is English (it means the "bald one" in Olde English), for the last few generations, the maternal side of the family was Irish. So except for the name, I think I am at least 88% Irish. My research indicates that the Ballards arrived in Amesbury, Massachusetts aboard the James in 1670. After that, they settled in the local area, but I lost track of them around 1750. The next reference to the Ballards I found was a family that lived in Framingham around 1850 and owned a scrap metal business in South Boston. Since my great grandfather lived in S. Boston and owned three hackney stands in town, I believe he is a descendant of the Ballards in Framingham. And from there, the line follows directly down to me!
I was born in Boston and lived in Roslindale on the second floor of my grandparent's apartment house until I was four years old. Aside from the time I somehow put my grandfather's car in neutral and coasted backwards down the drive way, across the street into a pole just a few feet away from going over a cliff, I don't remember too much from my time living there. We moved to the great suburbs in 1957, to the "sticks" as my Aunt Vera disapprovingly called it, to a small town called North Attleboro. Because my Dad was a World War II veteran, he bought a new house in a new subdivision with G.I. Bill benefits. (Yes, hard to believe but the government actually took care of its veterans back then).
After a typically traumatic yet oddly benign childhood, I moved through my turbulent teen age years. When I was 12, I took up the guitar after failing at the piano and saxophone, and for the next several years, playing music was mostly all I cared about (oh yeah, and girls too). Although I was a bright kid who showed a lot of promise (they said I had a high I.Q.), I did not adapt well to school, neither academically nor socially, so by the time I was in high school, I was pretty tired of it all. I became less and less interested in participating in the "rat race" as my Dad called it, yet the pressure kept growing for me to "conform." I became a non-conformist, a semi-radical, hippy musician. I was kicked out of Catholic high school because my hair was too long (it touched my collar) and I ran away from home for a week. I was very depressed about a lot of things, including the upcoming military draft, rejection by the first girl I really loved and a host of other things that had built up over the years. I half-heartedly tried to commit suicide a couple of times and found out that neither cough syrup nor aspirin overdoses work.
I returned to finish at a public high school which fortunately had just rescinded its dress code policy regarding long hair for boys. Although more acceptable than at a parochial school, I soon found that I was part of small but growing group of "freaks," with long hair, that dressed weird, smoked marijuana and occasionally experimented with hallucinagins like acid and mescaline. I was rocking away in a one band after another and having a good time until I found out my 17 year old girl friend was pregnant. We were both virgins when it happened and for us, the first time was a charm. Both us were shocked when we got the news after a secret trip to the emergency room at Mass General Hospital in Boston. After some crazy talk about running away to New York for an abortion, we decided to ride it out. Under the watchful eyes of our parents, we were quietly married at the court house. It was an odd mixture of fear and happiness, joy and sadness, guilt and celebration.
After our son was born, our relationship quickly deteriorated. We were way too immature to handle it all. However, we did do a good job of taking care of our baby. I went on another of my "lost" episodes, living in the New Hampshire woods through winter, surviving on little to nothing, but still playing my music. I came back and played with a couple of bands and fell into another marriage when I was just 22. I was not in the best shape emotionally or financially at the time, so it looked like a way to pull it all together, but I was seriously wrong. One good thing that did happen though is that I discovered Las Vegas on a vacation and decided to stay there instead of coming back. I guess I was pretty desperate to change my life so jumped at the first chance that came up to get the hell out of Massachusetts. Although I soon ran out of money and came back, within six months I was divorced and headed back to Vegas.
I am sorry this is getting so long. I didn't realize I had so much to say about my life. To move it along, I lived in Las Vegas for three crazy years, working as a bartender in the casinos downtown and on the strip. Vegas was a much different place in the 70's than it is now. It was smaller, the big corporations had not yet taken over, and there was still a little of the mob feeling left. I finally left before I completely self-destructed and went back to Massachusetts. After living there for about six months, I did my favorite thing again, I got married. This time it lasted for 12 years and produced three great kids, so it was a pretty good run for me. It was during this time that I graduated from college and went to work at GAO. So now, I am back where I left off.
I learned a lot and had some great experiences working for GAO which allowed me to acquire enough knowledge and contacts to leave and start my own CPA firm. I passed all parts of the CPA exam at one sitting, so I felt confident I could strike out on my own. After about a year and half of earning almost nothing and living off credit cards I finally began to get some work. I discovered that doing government audit work was actually a lucrative business once I won a few contracts. I became quite good at researching bid opportunities and preparing proposals. After another year or so, I moved my office out of my house and into a real office building. Another year later, I purchased an office condo in the building and hired two people.
As the firm grew though, I came up against some limits. The pool of experienced government auditors in the area was very small. This limited the amount of work we could do. We eventually won a big contract that we really needed a lot of help to do. I decided to sell  my firm to a larger one that had the resources to do the job. Although it was sad to close down the firm, I felt like it was for the best, and it was for awhile. However, I learned that the work that my firm did was not really a good fit for the larger, more traditional firm that we joined. After a few years, I could see that it was not going to work and decided to leave the firm, intending to finally seriously persue writing music as a career. I had been gradually delving into the music business for several years before this and felt like I was ready to really take a shot at it.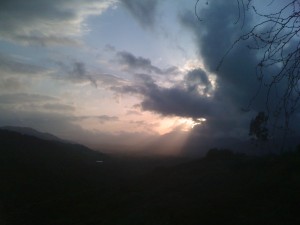 I moved to Ojai, California, a beautiful spot that enchanted me the moment I first saw it. My step son was already living there and was writing music for film and worked with a local studio. I took all my equipment with me, combined it was his and before I knew it, we had expanded into a large, commercial recording space. Although I was very excited about this venture, it didn't really work out as I had hoped. My intention was to record my music there and market it. But by now, the studio had grown so complex that I could barely operate it. My son offered to help, but it was still very difficult. He had other commitments and I had a lot of trouble performing under the microscope. In addition, the studio was very expensive to operate and we didn't have enough business to cover our costs. I bailed out and the studio closed not long afterward. I was sad about it and to this day still have not managed to professionally record a CD. However, I have made some live recordings and a number of instrumentals that I created in my home studio. Since moving to Ojai, I have performed live more times than I did in all my years combined. I have also won some prestigious song-writing awards and earned some income from music licensing and royalties.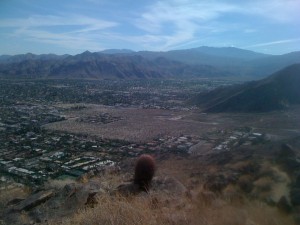 Most recently, I landed in the Coachella Valley, near Palm Springs, California after a two year journey across America. What started as a visit has now turned into a full time occupation. I am meeting lots of new friends and really enjoying the beauty of the desert.